Sample Plans and Project Descriptions
Following are two examples of Kish projects, design and construction. If you've never done an addition or renovation to your home you may have questions about costs. We've put together 2 typical
addition scenarios with general layouts, price ranges and estimated completion times.
This general information should be helpful in deciding what you wish to do in your home.
Please note that these are general examples only and that each project must be judged on an individual basis.
Your particular plan will be created especially for your home to meet your specific needs and taste.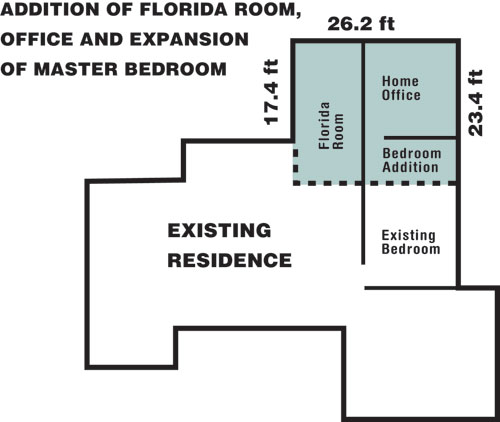 Project: Addition of Florida Room, Office and Master Bedroom Expansion.
Total Addition: 613 sq. ft.
Cost Range: $90.000 to $120,000
Approximate time for completion: 16 to 20 weeks

---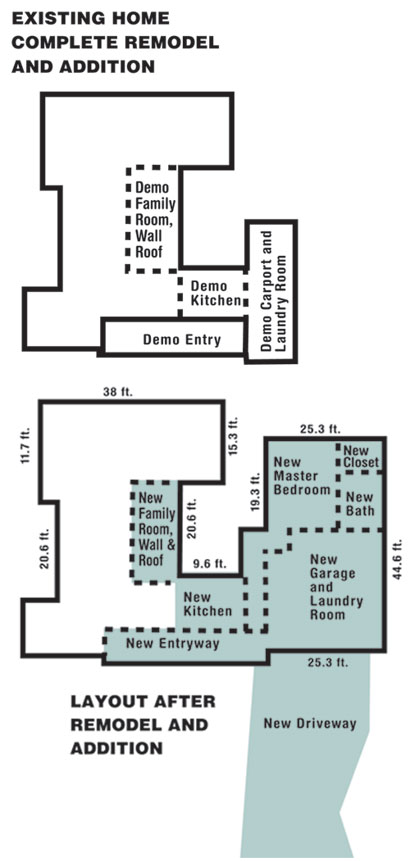 Project: Existing Home Complete remodel and Addition: Demo kitchen, family room, carport and
laundry room. Remodel kicthen and family room, build new garage, laundry room, master bedroom
and bath, and walk-in closet.
Total Addition:1241 sq. ft. (includes 625 sq. ft.in the new garage)
Cost Range: $220,000 to $310,000
Approximate time for completion: 20 to 22 weeks



About Kish | Portfolio | Sample Plans | Kish Q & A | News & Trends | Contact Us | Home
Kish Builders, Inc. ©2020 All rights reserved